When the Jeep® Wagoneer debuted back in 1962, the "station wagon" had all the trappings of a vehicle poised to make history: looks, versatility, comfort and the feeling that it was possible to dress to the 9's to take a drive through a stream and across a mountain range.
It was an SUV before being an SUV was cool.
Right from the beginning, the versatile Wagoneer showed up in the Southwest as a trusted ranch hand, moving agricultural products and working the land, but still able to cruise into town for dinner. In the Northeast, the preppy crowd appreciated the comforts it provided. Skiers and outdoorsmen relished the comfortable ride up mountains and over rugged terrain. In the Northwest, Wagoneer continues to enjoy a vast appreciation.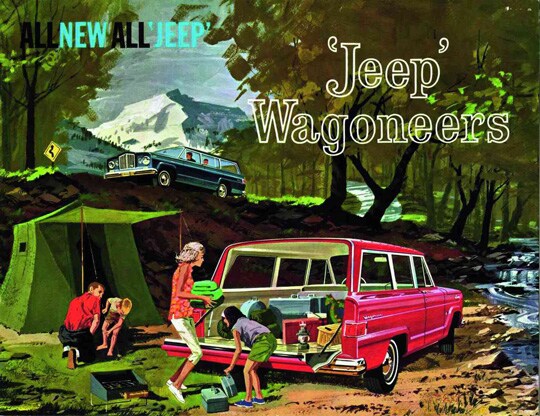 Wagoneer was born in Detroit during the Willys Motors days. Industrial designer Brooks Stevens (designer of the Oscar Mayer Weinermobile!) was brought in to assist the design team and created the illustrious vertical grille design. The legendary "robin's egg blue" was a color that Stevens had used on his kitchen appliance designs in the 1950's. From those humble beginnings in a warehouse in downtown Detroit, Wagoneer has the distinction of having one of the longest running, unchanged vehicle designs in automotive history. At peak production in 1978, Wagoneer enjoyed a run of over 28,000 vehicles and introduced the "Limited" version. If it was possible to become more of a comfortable ride, Wagoneer Limited was it.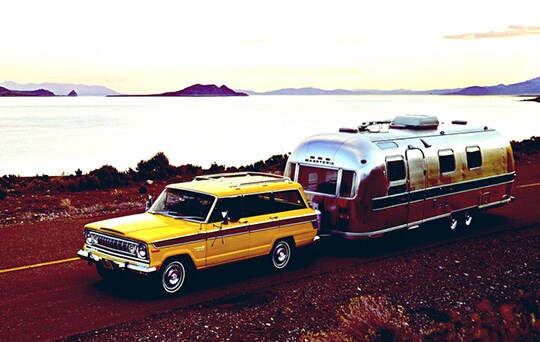 The now famous wood panels (an homage to a time when work wagons were made of wood), plush leather, thick carpeting and wraparound headlamps quickly gave it icon status. But Wagoneer was not just another pretty face. Advertising from back then suggested this first of the full-size Jeep® vehicles had the largest cargo area and tailgate opening in its class: "Wagoneer may take a tough-minded approach to conditions outside…but inside it's a soft touch with room, luxuries and driving comfort you'd marvel at in any station wagon." That attitude, coupled with the distinctive working class look, gave it a following that still thrives, even though the line has not been in production for 21 years.
It's Grand…
In 1984, Jeep® consolidated the Wagoneer product line into the Grand Wagoneer. Fully loaded and long lasting, Grand Wagoneer was the representative of the line until the last one rolled off the assembly line on June 20, 1991. That year 1,560 vehicles were produced in nine colors. Jeep® produced only 150 vehicles wearing the celebrated Hunter Green coat. This limited production year also provided owner's with a Final Edition interior badge. Today, finding a green '91 model is considered hallowed ground among Wagoneer Fans. For those still enjoying their "Woody Wagon" and those yearning to get out there, put on your tux and pack your camping gear! There are still roads to be run!